Dressing for the office can be a bit tricky!
If done right, jewelry can improve your office looks. Sometimes, it becomes difficult to figure out which jewelry will suit a casual or a business environment. While some companies have stringent dress code for office, others are flexible about it.
Jewelry always compliments your clothing style. But, do you know what type of jewelry to wear to an office? We all know diamonds are a woman's best friend, but it is not the case anymore. Diamonds are indeed special, it can be a bit risky to wear them in an office environment amongst the hustle and bustle of files, constant meetings, and client visits.
Women have started looking for other options of jewelry too like Sterling Silver Jewelry, which can be worn in the office.
What is sterling silver?
Silver has been symbolic of wealth and prosperity for long. Sterling silver is a combination of 92.5% silver and 7.5% of other alloys. Other alloys usually include copper or zinc. The addition of other alloy gives strength, malleability, and durability to the silver. Pure sterling silver jewelry contains stamp like '925', '92.5', or '.925' that indicates the purity of the silver.
Sterling silver looks as good as pure silver and is an affordable and timeless treasure in a woman's jewelry collection. All these reasons make them a good alternative to other jewelry. They can be perfect with your workwear too. Let's look at some of the essential sterling silver pieces to wear at the office.
Essential sterling silver jewelry for your work wardrobe
These business jewelry pieces are more than appropriate for completing your professional look.
Stunning silver oxidized earrings
Have a traditional day at the office? You can wear oxidized silver earring with your traditional attires to give you a subtle yet classy look. They are a fabulous piece of jewelry to add to your work-wear accessories. They look great with any kind of outfit. Not only Indian, but you can also wear them with semi-formal looks. Just ensure that you don't pick a too gaudy piece. It will draw unnecessary attention.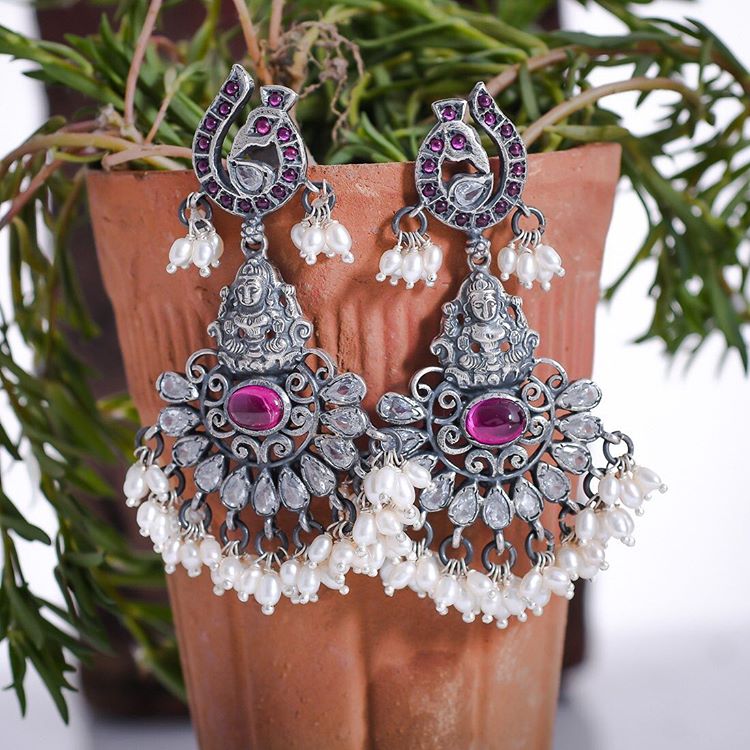 Intricate silver pendants
Pendants are an evergreen fashion trend. Silver pendants look great when paired with a simple chain. A pendant necklace with small crystal work is a subtle piece to wear over your business attire. Again, try to pick a simple piece with minimal details. Cube, solitaire, and marquise shapes go well in pendant designs.
It is a piece of statement jewelry without requiring multiple or large pieces.
Long silver chain necklaces
Long silver chain necklaces with a sleek design is a big 'yes'. They bring versatility to your look. They can either be worn alone or with other similar chains as well. You can wrap a long chain to give an impression of wearing two chains. Some chains even have matching bracelets to complete the overall look.
Stackable silver rings
When you work on your keyboard or laptop, your fingers draw a lot of attention. Empty fingers will give a dull and monotonous look. You can stack them up with minimal silver rings in sleek designs. You can mix and match separate rings or wear more than one ring on a finger. Looking at your beautiful hands will give you enough motivation to keep working. 😊
Bracelets
Finally, bracelets are must-have jewelry in your work wardrobe. Don't try to overdo it. Pick sleek and simple designs to look elegant. Adding anything too flashy will ruin your formal look. In a business environment, wearing too many bracelets is not a good idea. Hence, try to wear one or a maximum of two sleek bracelets to ace the perfect look.
When heading out to work, if you feel overboard, you can simply let go off any one jewelry piece. It will give you a psychological satisfaction that you have dressed in the right manner. If you don't like wearing jewelry to work, you can stick to wearing only earrings with your business attire. Earrings are more important than other jewelry pieces, as they directly affect your facial look. You can go with silver studs or 9-to-5 statement earrings.
Important tip: Sterling silver is prone to tarnish due to the presence of copper and zinc in it. However, you can easily get rid of the tarnish through some DIYs or by scheduling professional clean-up rounds. You can prevent the tarnish by storing sterling silver pieces separate from other jewelry. Try not to wear it out in the water or humid conditions.
Wrapping-up
Your dressing sense directly impacts your personality and how others perceive you. We hope our guide to work-wear jewelry will help you in picking the right pieces of jewelry to work.